What is your most trusted source of information, about the daily weather? "The app on your mobile phone", is probably your first answer.
But when there is extreme weather, are you sure that this mobile device will tell you where to go and what to do? And who explains to you the background to the changing weather we see all around us? That is where media meteorologists and weather presenters come in.
Weather presenters monitor the changing weather and their warnings save lives. But warnings are not enough.
Started with the Paris Agreement
Climate without Borders is a new organization (founded in 2017) that grew from a WhatsApp group, with now around 140 weather presenters from 110 countries. They exchange information on a daily basis about world weather, extreme weather and climate.
This group was founded just one day after the Paris Agreement was signed. The Belgian weather presenter Jill Peeters started putting all her weather contacts together in a WhatsApp group, with the idea that 'sharing is caring'. And above all with the idea: together we always know more than alone. Most of them she met on international conferences such as the International Forum for Meteorology and Climate (FIMC), Conference of Parties (COP), climate communication work shop in Tokyo with World Meteorological Organization (WMO), American Meteorological Society (AMS), European Meteorological Society (EMS), Wettergipfel, and... holidays. 
The science is clear
The weather is changing everywhere, and people get hurt, die, or flee because of these changing weather patterns. Therefore correct information is needed, exact data, good scientific research…but above all good stories. People are often not convinced by facts and figures alone.
The science is clear, and all we know is searchable and available online. But there is a huge difference between making things available online, and actually reaching people. That's where weather presenters come in!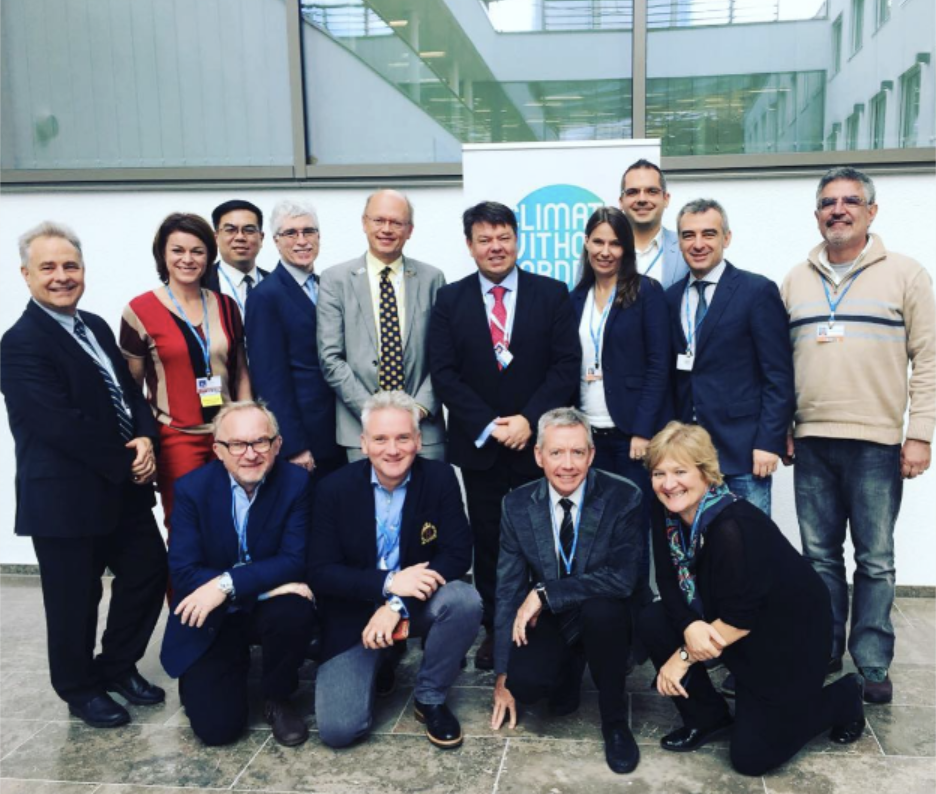 Reach of 375.000.000 people a day
The founding members of Climate without Borders have a daily reach of around 375,000,000 people. But this number will soon increase, when more weather presenters become members.
Climate without Borders will educate, motivate and activate weather presenters, so they can increase, or even maximise their ability to reach out to their followers, viewers, fans and beyond. 
Climate without Borders will support actions that can create a better, more sustainable world for each and every one.
A strong community of educated weather presenters
We will create educational projects, in cooperation with RVO society and other partners. And on a daily basis we will build a stronger community and help weather presenters find their climate voice.
Climate without Borders will also collect data through a citizen science e-learning platform, spread through schools. This is still in a R&D phase. But our aim is that for each and everyone realise that scientific weather measurements such as temperature and precipitation are important to improve the weather predictions. We need this so that we can prevent more people from suffering the effects of extreme weather.
Together we must take action, to preserve this planet for future generations.
International support since day 1
Climate without Borders had the ambition to become the preferential partner for Article 12 of the Paris Agreement. The UNFCCC became a huge fan of this initiative.
The founder of Climate without Borders was invited at the General Assembly in September 2017 in NY to represent all weather presenters, and she became a member of the Climate Action Leadership Network.
The WMO also uses the weather stories, coming from Climate without Borders for its outreach, and is willing to cooperate on the weather and citizen science project we are unfolding.
UNEP and IPCC are two other UN organizations that also expressed their support. At the launch of Climate without Borders, The Global Covenant of Mayors and the vice-president of the European Union expressed their interest of cooperating with the weather presenters.