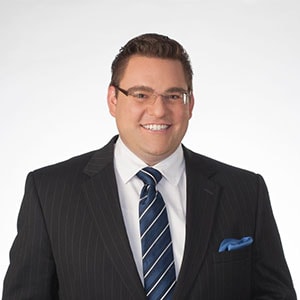 My story
Mike Favetta is from the United States. He is working at News 12 Brooklyn and News 12 The Bronx as morning weather presenter since October of 2008. He has his Certified Broadcast Meteorologist seal, and won two New York Emmys for excellence in weather presenting. In addition to 9 NY Emmy nominations in total, Mike received a 1st place for best Weathercast in New York state from the Associated Press in June 2017.
Mike regularly communicates the latest weather and climate research through invited public speaking events: he has been the keynote speaker at conferences, co-presented with NASA scientists at the
American Meteorological Society's conference (AMS), and was an invited panelist to Con Edison's symposium on climate change. He began his own meteorological consulting firm in 2014, WeatherPrep, LLC.

He is one of only a dozen meteorologists in the country to have both his Broadcast and Consulting Meteorologist certifications. His company has performed forensic studies, and published climate reports for firms and companies to understand their risk of climate change. Mike also consults with iPhone and Android app developers to create new weather apps such as Instaweather, InstaWatchFace and the Vaavud wind meter app. Mike has a minor in Italian studies, and reads, writes and speaks Italian fluently. His new career in communicating climate change risk mitigation will take his 10 years of expertise to the global stage.