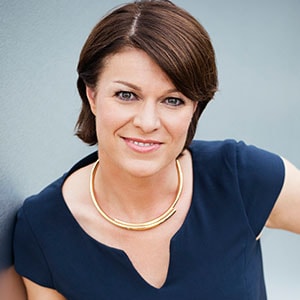 My story
Jill grew up with a natural interest for weather, and the impact it had on agriculture and people's live. She studied geography and meteorology at The Catholic University of Leuven, Belgium. And worked for her Master on the prediction of Ultraviolet radiation and it's relation with human health. She also got a Master degree in industrial corporate policy. In 2000 she made her child dream come trough and started as a weather presenter at VTM, the Flemish commercial television channel. Jill Peeters writes the daily weather report for Het Laatste Nieuws, the most read Flemish newspaper. She often writes articles or editorials about our weather and changing climate in other papers or magazines. She also works on promoting science among young people. And therefor she keeps a close contact with universities and colleagues. Her last TV project for children was a series of eight programs about the changing climate and the things children (and their parents) should do about this (Klimax, 2015).
In 2005 she wrote her first book 'Jill doet het weer', with all the answers on popular questions about every season. A successful story which continued in her next book about global warming, based on the IPCC AR4. In 2014 she wrote a new book '40 graden in de schaduw' with the newest insides of the IPCC AR5 report.
Besides documentaries about flood in UK, storm chasing in the USA, she loves to focus her communication on a water project she helped to raise in Kenya, at the borders of Lake Turkana. She often gives lectures to service clubs, businesses, local and regional governments about the urgency and solutions of the climate change.
Jill got the EMS award of best 'TV weather forecast' in 2008 and also the 'Climate Change Communication Award' in 2009. She also participated as a member of the Belgian delegation during the COP15 in Copenhagen and the COP21 in Paris.   
After founding Climate without Borders, she was invited to join the Climate Action Leadership Network form the UN. Therefor she participated at the inauguration meeting, held at the General Assembly in NY in September 2017.
She's mother of 3 lovely teenage daughters and therefore really concerned about their and our common future.