Zoran Vakula, the popular weather presenter in Croatia at Croatian radiotelevision, is the proud initiator and co-organizer of the International Cartoon Exhibition about Meteorology. This year's International Cartoon Exhibition - Zagreb 2018 (ICE), is opened from May 29th and June 10th in Zagreb, Galerija Klovicevi dvori and in Media-library of French's Institute. 
"Laughter is the cheapest medicine", wrote Lord Byron a long time ago. Since cartoons often bring smile to your face, one might say that it also cures. Meteorology, though, does not cure but could help in the healing and prevention of some health conditions caused by weather changes. After all, connection of these changes to the health and mood of humans has long been proven, and is almost daily additionally explored in biometeorology - a special part of meteorology in which it is linked to medicine. And there is a connection between cartoons and the weather! Not only do we often find meteorology in a cartoon, but sometimes we even find a kind of cartoons in meteorology, especially in weather forecasts. In a positive and a negative sense. Droughts, floods, heats, swelters, coldness, severe weather and other meteorological "motives" have long inspired many cartoonists around the world.
Zoran is am thrilled about this year's ICE theme: "Meteorology: weather, climate, weather forecast, etc." This has encouraged many authors from almost all continents to send their cartoons to Zagreb. Most of the illustrations will stir up a smile, some of them probably just the "sour face", and some cartoons will probably stimulate even thinking about the world around us, weather and climate, and also what weather is doing to a man - and what a man is doing to weather...
The winners were selected by the jury out of the total number of registered 788 works of 357 authors from 62 countries - a new record for ICE.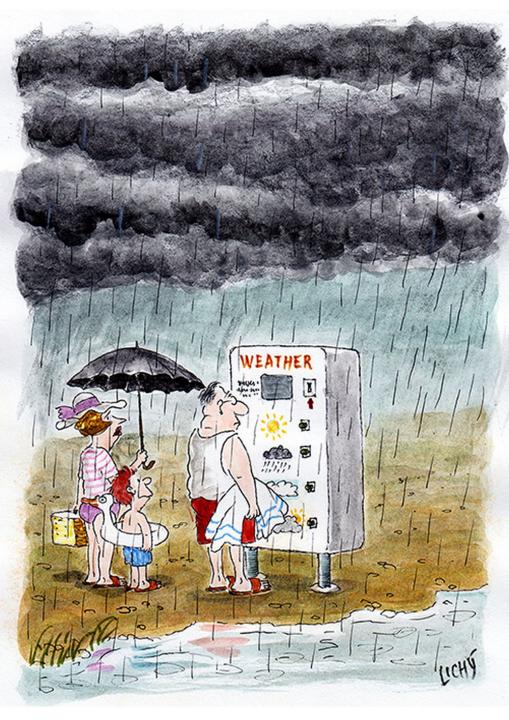 The winners are:http://www.hdk.hr/vijesti/zagreb2018_pobjednici.htm
1st - Lubomir Lichy, Czech Republic
2nd - Hou Xiaoqiang, China
3rd - Andrei Popov, Russia
Special acknowledgement:
Kfir Weizman, Israel
Luka Lagator, Montenegro
Goran Celicanin, Serbia
Sasa Dimitrijevic, Serbia
Damir Novak, Croatia

Catalogue is available at: http://www.hdk.hr/vijesti/slike/zagreb2018_katalog.pdf
More information at: http://gkd.hr/izlozba/23-medunarodna-izlozba-karikatura/; http://www.hrt.hr/426754/vrijeme-i-promet/meteorologija-u-karikaturi-i-karikatura-u-meteorologiji; http://magazin.hrt.hr/445924/smijesna-strana-meteorologije